Business Continuity & Disaster Recovery
Agenda:
Data Protection Overview
Implementing Windows Server Backup
Implementing Server and Data Recovery
Implementing Disaster Recovery
Microsoft Solutions:
Breadth & depth solutions for business continuity & disaster recovery
Data Protection Overview:
Identifying Recovery Requirements
What Are Service Level Agreements?
Overview of Enterprise Data Protection Strategies
Mitigation Strategies
Best Practices When Implementing a Data Protection Strategy
Overview of Enterprise Data Protection Strategies
You need strategies for recovering:
Data
Services
Servers
Sites
Offsite backups
What Is Windows Server Backup?
You can use Windows Server Backup to:
Back up full server (all volumes)
Back up selected volumes
Back up selected items
Perform a bare-metal recovery
Perform a system state
Back up individual files and folders
Exclude selected files or file types during backup
Select from more storage locations for the backup
Planning Backup Capacity
When planning for backup capacity, consider the following:
Space requirements for a Full Backup
Space requirements for an Incremental Backup
Amount of time required to back up
Backup Frequency
Backup Retention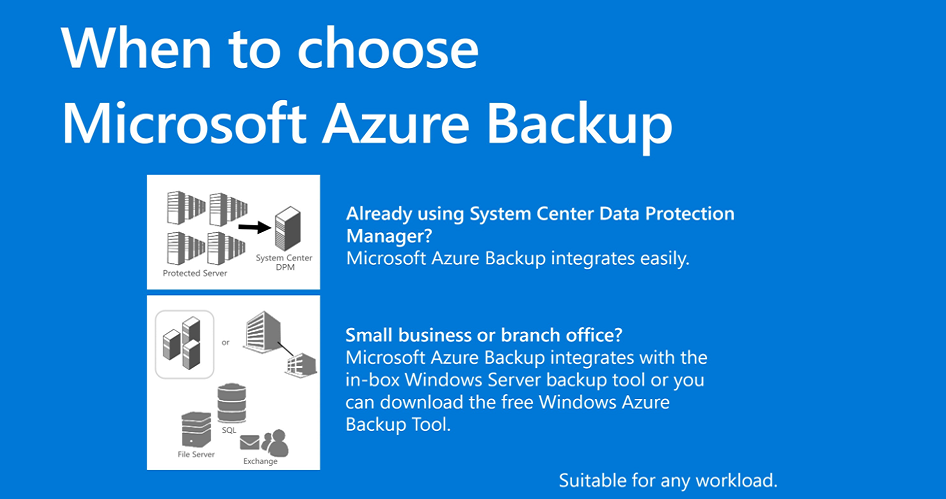 Azure Backup Pricing
What Is Microsoft Azure Backup?
Microsoft Azure Backup features include:
Simple configuration and management
Block-level incremental backups
Data compression, Encryption, and Throttling
Data Integrity verified in the cloud
Configurable Retention Policies for storing data in the Cloud
120 Days retention with a daily backup schedule
9-Year retention with a monthly backup schedule
Restoring with Microsoft Azure Backup
When restoring files by using Microsoft Azure Online Backup, perform the following steps:
Select the server
Locate the files you want to recover from backup
Choose the restore location
What Is System Center 2012 R2 Data Protection Manager?
DPM:
Allows you to centralize backups
Offers 15-minute snapshots of servers and clients
Can store backup data on SANs and export to tape
Can back up remote sites
Can be used as part of a backup-to-cloud strategy
Supports Microsoft Products
Orchestrated Disaster Recovery
Hyper-V Replica
Hyper-V Replica Extended Replication
Microsoft Azure Site Recovery (ASR):
Use Microsoft Azure Site Recovery to protect virtual machines that run on Hyper-V hosts that are in System Center Virtual Machine Manager clouds and standalone Hyper-V infrastructures. You can configure:
On premises to Microsoft Azure protection:
Replicate on-premises virtual machines that are on Hyper-V host servers in Virtual Machine Manager clouds to Microsoft Azure. You configure and enable protection settings in Microsoft Azure Site Recovery vaults. Virtual machine data is replicated from the on-premises Hyper-V server to Microsoft Azure storage
On-premises to on-premises protection:
Replicate virtual machines that are on Hyper-V host servers in Virtual Machine Manager clouds from one on-premises site to another. You configure and enable protection settings in Microsoft Azure Site Recovery vaults. Virtual machine data is replicated from one on-premises Hyper-V server to another. Microsoft Azure Site Recovery simply orchestrates the process
Heterogeneous Disaster Recovery